Dear fellow members of District 105,
Thank you for giving me the privilege to serve you as your District Program Quality Director for the term 2021-2022.
As I look back at my 16 year journey as a Toastmaster, I have realized the wealth of unique opportunities that have enriched my life personally and professionally, as well as the scope of growth that is available to each one of our members.
It would be delightful indeed if you too grasp opportunities when they appear. Be bold, support each other as you grow together and you will also see that the rewards will be beyond your imagination.
We are going through challenging times. However, we must remember that we don't grow when things are easy but we grow when we face challenges.
My mission is to help you meet your own greatest potential and achieve your goals. I endeavour to do this by assisting you in your journey through the various initiatives and programmes that my team and I will be coming up with.
Through Unity, Service, Dedication to Excellence, and along with Joy – we can all push together to reach new heights this year!
So Let's Come Together and Make a Difference… because United we Excel!
I remain your greatest champion!
Yours in Toastmastering,
Rania Abul-Rub, DTM
Judges & Contests Co-Chair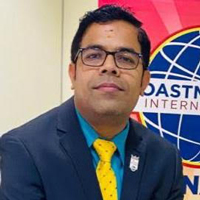 Virtual + Hybrid Committee
How to become a DISTINGUISHED TOASTMASTER?
The Distinguished Toastmaster (DTM) award represents the highest level of educational achievement in Toastmasters.
• Complete two learning paths.
• Serve as a club officer for 12 months.
• Participate in the preparation of a Club Success Plan.
• Participate in a district-sponsored club officer training program.
• Serve a complete one-year term as a district officer.
• Serve successfully as a club mentor or coach.
• Serve successfully as a club sponsor or conduct a Speechcraft / YLP
• Complete the DTM project.
How to become an ACCREDITED SPEAKER?
The Toastmasters International Accredited Speaker Program is for professional speakers who combine extensive knowledge of a subject with mastery of the spoken word to become sought-after authorities in their areas.